Just a reminder that this is the last weekend to sign up for

hp_holidaygen
. Sign-ups close midnight PST on Sunday.
We have about 15 people signed up at the moment, with a mix of interests so we should have a good selection of fic to enjoy in December. A few more participants would be most welcome!
Clicking on the banner will take you to the sign-up post: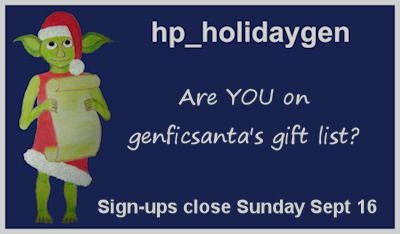 And much to my surprise, in the process of making the banner I seem to have drawn fanart! Not that I'd compare my wee elf to the stunning creations of our talented artists, but we all have to start somewhere, and to be honest I've seen worse.
( Read more... )